Life Story of Dr. Vivek Bindra
Vivek Bindra is one of the finest leadership coaches in India. He is the founder and CEO of
Bada Business.com. He is also a leadership consultant, motivational speaker, and business
coach. He has proved that anyone can run a business, and harness entrepreneurial skills. . His
leadership programmes have instilled great enthusiasm amongst entrepreneurs, who started
new ventures. His entrepreneurial vision has inspired many young leaders.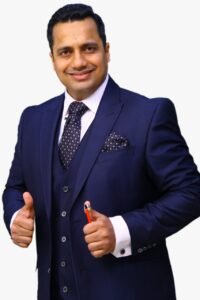 He is known to be one of India's best leadership consultant and business coach. He is an inspirational guide
to many entrepreneurs today. He has been awarded an honorary PHD degree. He is also an
advisor to the biggest corporates in the country. He has also provided leadership training to
the top 100 CEOs in the country. He has been titled as the best leadership trainer in Asia
Award by Marshall Goldsmith at the HRD Congress.
EARLY LIFE of Dr. Vivek Bindra
Leaders are not born but self-made with dedication, and hard work. Even to DR. Bindra,
success wasn't served on a platter. He went through several rough patches before becoming
the successful businessman we know of today. He was born on 5th April in the year 1982 in
New Delhi. He completed his schooling from St. Xavier's Senior Secondary School, New Delhi,
and did his MBA from Amity Business College Delhi. He also received an honorary PHD degree.
Tough childhood
Contrary to the life he lives today, DR. Vivek Bindra ad a tough childhood. At an age where he
should have been playing and exploring the world around him, he spent his days earning an
extra income to support the family. As a child he used to sell dictionaries on the street to
make ends meet, spending this amount on school fees and studies. At the age of 16 he used
to give tuitions to children. He also learnt business nuances at a very early stage in his life,
and always had the spark to achieve great milestones in life. He always dreamt of studying
abroad, but because of ad dearth of funds couldn't. This did not deter him from achieving
great heights in life.
Establishment of global act
Dr Bindra started his own company in the year 2012. He started this company to train people
who wanted to do business, but lacked the skill set and means to do so. Through his company
he wanted to empower such people. As everyone faces up and downs, so did he. He had to
start his company from a small room, in between there were times when the company went
into losses, his contracts got cancelled, payments were either delayed or got cancelled. In
order to pay his employees, he sold his house.
He never gave up in life. Even during the darkest of times, he did not give up, and took utmost
care of his employees. He even got a job offer of Rs. 2.5 Crore, but he refused it and continued
to run his company. His initial training fees was 1.25 lakh, which he thought was too expensive
so he reduced it to Rs. 19000 for a small business man an Rs. 9000 for students.
THE JOURNEY FROM 4 VIEWS TO MILLION VIEWS
He launched his very own YouTube Channel, but he did not get enough clicks and views. In
his initial videos, he merely got four views. Tis did not deter him from making more videos.
Today his channel has almost 12 million subscribers on YouTube.
Also Read: THE SUCCESS STORY OF NETFLIX
IMPACT OF BHAGWAT GITA ON HIS JOURNEY
When in college, one of his professors gave him the Bhagavat Gita. The Gita has a huge impact
on his life. Through his seminars he always preached about how the Gita could be viewed as
a source of inspiration. The Gita taught him how to bounce back in life, and not give up. Apart
from this his success is due to his hard work, dedication, and strength to bounce back.
Today because of his entrepreneurial training programmes, many people have realized and
accomplished their entrepreneurial dream. When he reached the lowest point in his life, he
gave up and took retirement, and during these times he imparted the teachings of the Gita in
schools and colleges. His guru told him that he shouldn't give up, and that he should get back
to running his business. After bouncing back, he resumed his business again, which is doing
exceptionally well today.
DR. Bindra's success today is a result of immense hard work, dedication, and strength to
bounce back. Today, many young entrepreneurs have taken inspiration from his programmes,
and have fulfilled their entrepreneurial dream.