Met Gala, the pinnacle of fashion events, always delivers a mix of breathtaking moments and controversial choices on the red carpet. Met Gala 2023 was no exception, offering a captivating blend of sizzling hits and shocking misses. This year's event showcased the unique design concepts and outlooks of celebrities from around the world.
Let's dive into some of the most remarkable appearances that caught everyone's attention.
Met Gala 2023 made a lasting impression with its dazzling array of dresses. From Rihanna's unforgettable yellow gown adorned with appealing lace to Madonna's iconic sheer black lace dress, the red carpet was filled with showstoppers. These choices not only captivated the audience but also sparked controversy, making them must-read stories for fashion enthusiasts.
The Met Gala 2023 was an event brimming with enthusiasm and remarkable fashion choices. Celebrities from all corners of the globe graced the occasion with their vibrant, stylish, and ethnic outfits. The colorful and charismatic dresses added an extra touch of glamour to the event, making it an unforgettable spectacle. We've handpicked a selection of styles that encompassed the biggest celebrity trends of the night, whether it be tweed or an abundance of pearls.
Met Gala 2023: Theme of The Year
This year's theme, "Karl Lagerfeld: A Line of Beauty," paid tribute to the fashion legend. Attendees were asked to honor Karl Lagerfeld in their attire, with his beloved cat Choupette also being a prominent inspiration. The theme provided endless possibilities for interpretation, but were the looks up to par?
Met Gala 2023: Top 5 Sizzling Hits on the Red Carpet
 As self-confessed fashion critics, we'll dive into the best-dressed celebrities of the Met Gala 2023, sharing our thoughts while eagerly awaiting yours.
DOJA CAT AS CHOPETTE
Let's start with Doja Cat, who embodied elegance and sparkle in her Met Gala 2023 ensemble. Her white straight-fit gown, adorned with a feline motif, perfectly complemented her calm and moody vibes. Making her Met Gala debut, Doja Cat arrived as a high-fashion version of Choupette, Karl's beloved cat. Her dazzling Oscar De La Renta gown made her truly outstanding.
FASHIONABLE DUO: RIHANA & A$AP ROCKY
Next, we have the fashionable duo of Rihanna and A$AP Rocky. Rihanna, known for her impeccable sense of style, arrived fashionably late but stole the spotlight in her pristine white Valentino bridal dress, embellished with camellia flowers and an exquisite five-foot train. A$AP Rocky, accompanying Rihanna, sported a complete Gucci outfit with a kilt inspired by Karl himself. While Rocky's attire fell slightly short in comparison, it stayed on theme.
LEAVING BLACK BEHIND: BAD BUNNY
Breaking away from the sea of black suits, Bad Bunny made a statement at Met Gala 2023. With slicked-back black hair, he donned an all-white tweed ensemble, complete with a "Benito" belt, leaving everyone in awe.
EMMA CHAMBERLAIN IN MIU MIU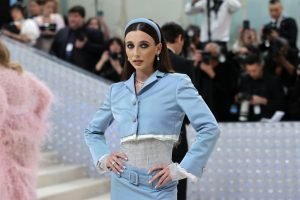 Emma Chamberlain injected a pop of color into the red carpet with her Miu Miu Choupette blue co-ord suit. The combination of preppy schoolgirl and chic glam created a mesmerizing look that left us utterly obsessed.
JAW DROPPING ACCESSORY- DUA LIPA
Last but not the least as a trendsetter, Dua Lipa rocked a jaw-dropping accessory alongside her white-and-black tweed Chanel Bride ball gown from the '90s. She adorned herself with a never-before-seen Tiffany & Co. white Legendary diamond necklace, stealing the show with over 100 carats of pure brilliance.
Met Gala 2023 was a magnificent event, where celebrities showcased their creativity and pushed the boundaries of fashion. The red carpet was a visual feast, leaving us in awe of the stunning and daring choices made by these trendsetters. let us know in the comment section which look inspires you the most?